Advantage Air MyAir Series 5 Zone Control
Premium air conditioning management system with 10 zones, individual room airflow control and a control screen that doubles as a tablet.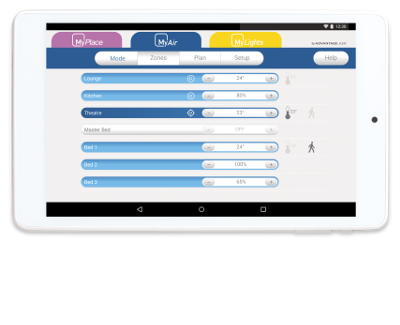 In a class of its own
Unique to MyAir
Superior 8-inch tablet with internet access

Stylish, intutive user interface

Option of energy-saving motion sensors
10 zones for flexibility and energy efficiency

Adjust the airflow to any room from 5 -100%

MyAir app for smartphones and tablets

Option of temperature sensors

Option of fresh air

Compatible with major air-conditioning brands

Australian designed, owned and manufactured
MyAir's 8-inch control panel doubles as a tablet
It controls your entire air-conditioning system, then with a tap of the Android icon becomes a super-fast tablet with crystal clear graphics. As everything from ordering groceries to paying bills migrates online, having a dedicated tablet for the home makes everyday life a little more comfortable.
MyAir App for additional control
MyAir comes with its own app that turns most smartphones or tablets into remote controls, allowing you to control the system even when you're not at home. It works on both Apple and Android devices (iOS7+ and Android V4+).
Engineered for unrivalled airflow control
MyAir delivers outstanding comfort because it gives you precise airflow control. The touchscreen make makes it simple to control which rooms receive conditioned air, and how much.
10 zones
MyAir zones each room individually. There's no paying to heat or cool empty rooms, as you have the ability to only run the system only in the zones you are using.
Precision airflow for perfect comfort
You also control how much air each room receives, thanks to Advantage Air's patented Exact Air Regulator (EAR). It uses advanced technology, usually reserved for commercial high rise buildings, that enables you to adjust the airflow to any room from 5 to 100%. Unlike standard systems with their single hinged pivot door in the damper, the EAR has a series of double doors that can open and close in 5% increments. This means everyone can customise the airflow to their personal preference.
Temperature sensors
Want even more precise temperature control in certain rooms? Install an Individual Temperature Control (ITC) sensor and the system will automatically adjust the airflow to maintain your selected temperature. Sensors are useful in west facing and upstairs rooms that heat up faster than the rest of the house.
Option of motion sensors
Motion sensors detect when a room has been empty for 10 minutes, and automatically adjusts the target temperature by 1 degree. If the room is still empty after 20 minutes, the temperature is adjusted by 2 degrees. This small adjustment reduces the room's energy usage by 20%. When you re-enter the room it will return to your original target temperature.
Integrates with major air-conditioning brands
MyAir controls Samsung, Daikin, Fujitsu, LG, Panasonic and Toshiba air-conditioners. MyAir's touchscreen controls both the air-conditioning unit and air management system, so there's no need for 2 control panels.
Australian made components
Take comfort from knowing your system is purpose-designed and built in Australia by Advantage Air, to withstand our extreme climate.