Advantage Air MyLights LED Integrated Low Voltage Dimmable Home Lighting System
Control the lights in your home from your smart device
Enjoy the security, convenience and comfort of being able to control your lights remotely with our new smart LED lighting system.
Why MyLights shines:
Affordable smart system
Smart systems are no longer a luxury. Not only does MyLights cost substantially less than other systems and is energy efficient, you benefit from the quality and reliability of an Australian made system.
Human-centred technology
Discover the very real benefits of MyLights: feeling safer in your home; being able to adjust the lighting in every room; controlling your lights from a central hub or your smart device; and saving energy costs.
Intuitive to use
You don't need to study the user manual – MyLights is intuitive to use. You'll be able to set up and program the system yourself. Between the 8-inch hub and app, you can control your lighting system from anywhere. Now that's comforting!
Australian made
Quality is everything, so our products are designed and manufactured right here in Australia. Being local, we offer excellent aftersales support and service. We have a helpline available, which is staffed here in Australia and they are expert in providing assistance to you.
Control your home from one hub
MyLights' control panel seamlessly intergrates with MyAir air-conditioning so you can adjust your lights and air-con from the same hub. Tap the Android icon and it's also a superfast tablet with crystal clear graphics that can be loaded up with other smart home products.
Match your mood lighting
Changing the lighting has the power to change the mood. Dim the lights and suddenly dinner becomes cuisine; the bathroom becomes a spa; and everyone looks more attractive. With MyLights you can adjust your indoor and outdoor smart lights by area or individually, from 5 to 100%.
See that you're safe
Nothing is more unsettling than when things go bump in the middle of the night. With the MyHub app, you can instantly turn on all your indoor and outdoor smart lights from the security of your bed. If you need to investigate, you'll feel safer in a brightly lit home.
Be seen in your best light
Do you prefer a clean crisp bright light, or a warm moody glow? MyLights energy efficient 11-watt LED globes come in a choice of warm, natural or cool, so you can always be seen in your best light.
The light fittings sit flush with the ceiling and come in a choice of contemporary finishes: white, black or brushed steel. MyLight fittings can be used inside and out, providing the outdoor area is undercover like an alfresco or portico.
Dimming your smart lights
With the ability to adjust every smart light in your home from 5 to 100% brightness without getting up, comes smart energy savings. For instance, if you dim your smart lights to 50%, you're running near zero power, which means you're saving dollars in the long run. The table below shows just how much you can save using the dimming function on the MyLights app: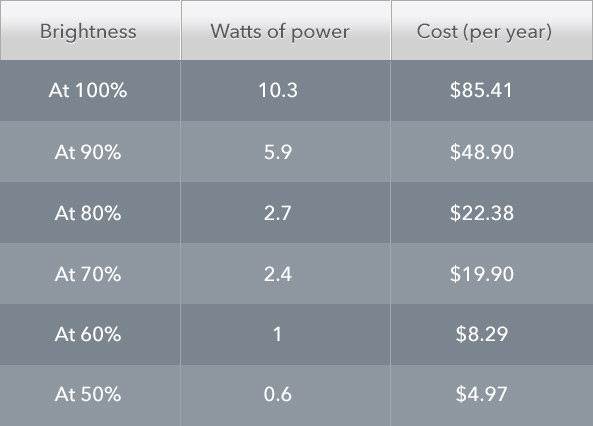 Figures in the above table are based on a per individual LED light
Get your home fully connected also with MyAir
The option to add MyAir
You can add MyAir to your home and because they're both from Advantage Air, they work off the MyHub control panel and app.